Almost 50,000 people a year enter homeless shelters immediately after exiting incarceration. Returning from jail, prison or juvenile detention places an immediate barrier to stable housing and employment.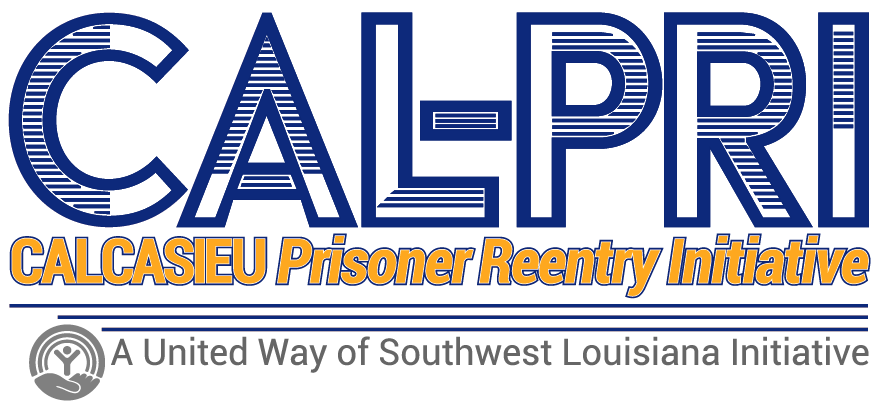 CAL-PRI is part of the Louisiana Prisoner Reentry Initiative, a statewide program providing tools, resources and services needed for returning citizens. The LA-PRI model develops individualized care plans for each offender during incarceration.
CAL-PRI's goal is to address their transition, reintegration and aftercare plans. 
Facilitating dialogue, partnerships and events focused on re-entry
Coordinating efforts to address human services needs
Partnering with community organizations to address issues
Raising awareness and advocating for services for re-entry success
Do you have resource(s) that assist formerly incarcerated persons?
The Calcasieu Prisoner Reentry Initiative (CAL-PRI) is comprised of a diverse group of members representing local, state and federal government agencies; community-based agencies; faith-based groups and other individuals who wish to assist re-entering community members in their desire to be successful.
EVERY OTHER MONTHLY MEETINGS
All meetings take place at United Way of Southwest Louisiana
815 Ryan Street, Lake Charles, La 70601
1:30 PM - 3:00 PM
TUESDAY, APRIL 11TH, 2023
TUESDAY, JUNE 13TH, 2023
TUESDAY, AUGUST 8TH, 2023
TUESDAY, OCTOBER 10TH, 2023
TUESDAY, DECEMBER 12TH, 2023
Do you have resource(s) that assist formerly incarcerated persons?
FIRST RESPONDERS
FAITH
EMPLOYMENT
LEGAL
HEALTH
WOMEN'S
ISSUES
EDUCATION
CORRECTIONS
HOUSING
COUNSELING